Welcome to the Area 52 Contact Forms.
This section includes five different contact forms each with a specific purpose. You can navigate to any one of the forms by using the sidebar menu, scrolling up and down the page or by clicking one of the title links below.
If you have general questions about Alcoholics Anonymous in Area 52 including North Dakota please use this form. Usually you will receive a reply in 24 hours or less.
Do you need to contact an Area 52 committee or officer (trusted servants)? Use the check-boxes to select the recipients the you are directing your message to.
Do you have an A.A. event that you want to promote on the Area 52 website?
Please review the guidelines for submitting fliers, then complete the Event form, attach your flier and click on submit.
This website provides meeting information on recognized Alcoholics Anonymous groups that are located in our Area.
Use this form to add new meetings, make changes to meetings when necessary and remove a meeting that is no longer active or recognized.
Do you have an idea for how we can improve this website? We'd love to hear your comments and suggestions.
How to Submit Events or News flyers to the Area 52 Website
The following guidelines should help with getting your event
posted on the Area 52 website as quickly as possible.
All event flyers are reviewed and approved by Area 52 PI/CPC before they are posted. To keep delays to a minimum, make sure that your flyer/event is related only to Alcoholics Anonymous ("By A.A.'s, For A.A.'s and About A.A.") Please allow 7 to 10 days for your flyer to be approved and posted on the website.
All flyer submissions require contact information including name, e-mail address and phone number. Occasionally there are questions, and these can be resolved quickly via phone or e-mail. This information will NOT be included with your published flyer. Do not use copyrighted images on your flyer. Please click on the link below to review the elements of a good event flyer.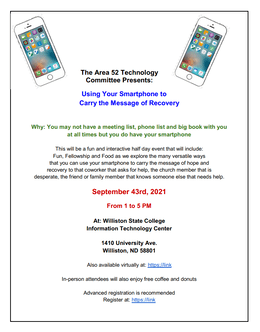 Safety tips regarding your flyer
It is important to safeguard anonymity as well as protect personal privacy. Therefore, please do not include the following items on a flyer:
Full names (please limit contact info to first name and last initial only).
Personal email addresses (Instead of using a personal email, there are free or "throw-away" email addresses that can be obtained from places like: mail.com; Yahoo; aol.com and dozens of other sources).
It is suggested that you don't use personal phone numbers, especially cell phone numbers.
It is suggested that you don't use your personal or business address for snail mail.
Submitting your flyer or Form
* On the form below is a link to clip your file to.
Paper flyers are acceptable and will be scanned to create electronic documents for the website. Allow 1 extra week for paper flyers to be posted. Send paper flyers to: Area 52 – Website Support, PO Box 2685, Williston, ND 58802-2685
The regular Events form is offline for maintenance.
On a temporary basis,  please forward any Events fliers to: